Parents of Member Angela Crosby
My Father had a stroke that left him paralyzed and in an assisted living facility. He had Alzheimer's Disease and his cause of death was advanced stages of Dementia.
Just a few months before he died my cousin and two other women  (one was a neighbor determined to get his house; the other woman was her friend – an Attorney specializing in Elder Abuse) secretly created a Trust for my father naming my cousin as a beneficiary.
My Mother was in the hospital at that time with a blood infection. They wanted to amputate her foot. I assured her everything was okay. By that time we found out the house was being sold and my parents life savings was gone.
I feel so guilty having put my mother through this. I suggested we get an Attorney. We had a Jury Trial scheduled for this month. I was sure we would win. It is not okay to secretly meet with a dying man, hold a pen in his paralyzed hand and force a signature! Five days before the Trial, her Attorney said we are fighting a battle we can not win. It would drag on for years, cost more than we had and we would never recover.
This is a crime that should be punishable by jail and it's not. So anyone can walk into these facilities, visit with these vulnerable, elderly patients a few times and gain control of their assets with no consequences whatsoever?
It happened to us.
I couldn't get justice for my Mother. She saved her whole life and now she can't afford her basic needs. Meanwhile…My cousin sells her big house in Anaheim Hills for a bigger one with a pool and waterfalls she purchased the very same month she had that Trust signed.
I found out about the GoFundMe Fundraising Website. This would be perfect for my Mother. If I could raise enough to cover her basic needs that would be wonderful. If I did make her whole then that would feel like we did win!
The success of these campaigns depend on people to see it.
Now I am defeated again. I have no Social Media, no Facebook, no Twitter, no Instagram. I don't even know what a hashtag is.
GoFundMe suggests reaching out to the community and ask that you share my story on your Social Media Network. I think you will find it interesting. What happened to my parents is another way the elderly are scammed and it might make a difference.
My Father is gone. My Mother lost her husband and her financial security both at the same time.    She desperately needs help.  If you can find it in your heart to help her recover from the financial loss, it would make a big difference to her.
The picture below is linked directly to the GoFundMe page for my Mother.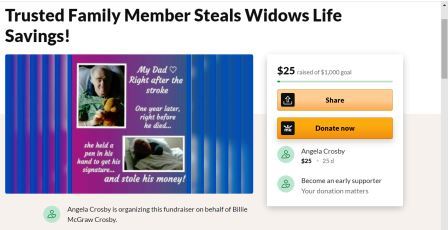 Sincerely,
Angela Crosby