Husband of Member Glenda Martinez-Smith
Post investigates: How professional guardian got marriage annulled
by John Pacenti
Glenda Martinez-Smith found the love of her life as a senior citizen.
Martinez-Smith, 68, said she felt like she hit the lottery when she met retired Army Col. J. Alan Smith of Boynton Beach through a senior dating website. "It was like a fairy tale," she recalls.
But the retired school teacher said their bliss was destroyed when a judge found her husband incapacitated after a car crash and appointed a professional guardian..
With the blessing of two Palm Beach County circuit court judges, the guardian put Smith, who had suffered a traumatic brain injury, in a nursing home, got Martinez-Smith banned from ever seeing him again and annulled the couple's marriage.
"That was the most horrible day of my life, the day my marriage was annulled," she said.
Besides annulling her marriage, one judge kicked her out of court and another threatened her with arrest. Still, Martinez-Smith persevered, winning appeal after appeal and wresting control back from the professional guardian.
Professional guardians are the subject of several bills moving rapidly through the Florida Legislature. Critics and lawmakers themselves say many guardians are siphoning the assets of wards to pay for their exorbitant fees.
$200,000 in legal fees
Business is also very good for the attorneys who flock around these guardians.
Every professional guardian employs at least one attorney to traverse the landscape of social services, nursing homes and liquidating assets. These lawyers come at a steep price, charging hundreds of dollars an hour in addition to the guardians' fees.
Martinez-Smith has spent a good part of her life savings — $200,000 and counting — in legal fees fighting guardian John Cramer and orders by judges on his behalf. She got three rulings reversed on appeal and the annulment to her marriage is pending.
Smith's assets paid Cramer $16,500 a month, said Martinez-Smith, who has not seen an accounting of how the money is spent. Cramer liquidated two of Smith's life insurance policies for $145,000 recently, she said.
"According to anyone's observation, this is a legal form of grand theft and robbery. It's exploitation of the elderly," Martinez said. "These guardians have to be stopped."
The Florida Bar president, West Palm Beach attorney Greg Coleman, supports the legislation, saying there is a need to address the "bad actors," whether they be guardians or their attorneys.
"The population is aging and this is something that is going to be more and more of an issue. The more protection the better," he said.
In the meantime, the retired Army colonel's health deteriorated without the necessary physical therapy at the nursing home. Today, the 83-year-old is nearly completely paralyzed and cannot speak.
Before the guardian put him in the nursing home, he was walking and talking, Martinez-Smith said. "How could they do this to him?"
Cramer, the guardian, did not return a calls for comment and his attorney Ellen Morris of Boca Raton declined to comment.
Jack Halpern, CEO of Elder Care in New York City, runs a company that offers an alternative to professional guardians by helping seniors navigate health care and the legal system. He says the problems are larger than just reining in the professional guardians, calling the proposed Florida legislation "a Band-Aid on an elephant."
"The problem involves judges, guardianship attorneys, adult protective services employees, and not-for-profit religious and secular agencies, who are profiting from these guardianship cases," he said.
Martinez-Smith doesn't want to talk about the judges in her case. But the appellate court has supported her three times so far by reversing Palm Beach County Circuit Judges Martin Colin and David French, who sit in the Delray Beach courthouse.
Smith had ended up in the clutches of a guardianship when the couple were still engaged. After the car accident in 2010, one of Smith's children petitioned a judge to find him incapacitated. Colin appointed Cramer as a temporary guardian and Martinez-Smith initially retained control of her husband's medical care.
But Cramer asked Colin to cut out Martinez-Smith altogether. At a hearing on the matter, Colin kicked Martinez-Smith out of the courtroom "on the basis of a perceived insult to him," according to a 4th District Court of Appeal opinion.
Colin told Martinez-Smith that her entire demeanor, including "her face, her voice, her sound, may be unpleasant to everyone else" but her husband. The appellate court told Colin to recuse himself, saying "that would lead any reasonably prudent person to fear that she would not receive a fair hearing before the judge."
But Martinez-Smith found little solace when the case was transferred to French.
Judge threatens arrest
Cramer had complained that Martinez-Smith was abusive to the staff over the lack of her husband's care at the nursing home. French removed her as a health-surrogate and banned her from seeing her husband. In the courtroom, French pointed his finger at Martinez-Smith and said he would have her arrested if she even went near her husband at the nursing home.
At a subsequent hearing, French also granted the guardian's request to annul the marriage. "I was crying in his courtroom," Martinez-Smith said.
Again, the appellate court reversed, ousting Cramer as guardian on March 18. It said French abused his discretion in not following Smith's wishes that his wife be in control of his medical care and assets.
"It's not surprising that someone strongly advocating for excellent care for their loved one would be at odds with staff which may be less than diligent in delivering such care," the opinion written by appellate court Judge Martha Warner stated.
Martinez-Smith's attorney, Jennifer Carroll of Palm Beach Gardens, said the recent opinion is precedent-setting because the court said the wishes of the ward are paramount.
"The most important thing about this is that each individual has a fundamental right to choose their guardian or medical caregiver," Carroll said.
Now that Cramer is out, Martinez-Smith is again her husband's health-care surrogate. On Wednesday, she had him transported to Holy Cross Hospital in Fort Lauderdale to be examined. He arrived in a wheelchair, alert but also unresponsive, dehydrated and with sores all over his body.
She comforted him, rubbing his chest in the wheelchair. "We are going to do everything we can to make you better," she told him.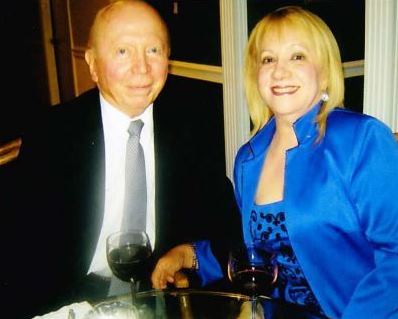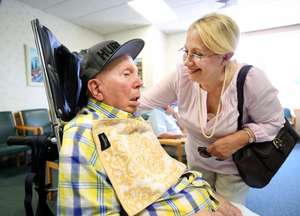 Additional Media:
Marriage Annulment in Guardianship Case Heads to Florida Supreme Court:
"She is heading to the Florida Supreme Court and aims once again to overturn Circuit Judge David French, who made the unusual move to annul her 2011 marriage to J. Alan Smith at the behest of a court-appointed professional guardian and the guardian's attorney….
Professional guardians — and the attorneys who represent them — are paid out of life savings of seniors in guardianship. A new law signed this year will give the state its first regulatory authority over the professional guardianship industry after abuses were brought to lawmakers' attention.
An annulment can be a cash cow for a guardian and the attorney who represents him or her. The Post reported in its series Guardianship: A Broken Trust how annulment proceedings initiated by a guardian can drain the estate of the senior and cost loved ones tens of thousands of dollars in court fees fighting it. …
A marriage annulment in guardianship can affect benefits for the surviving partner after the incapacitated senior dies and cause great emotional pain for the couple. Martinez Smith contends that the annulment was designed so that the guardian and his attorney could drain as much money from her husband's accounts, as possible.
Martinez Smith, who was financially secure long before she met Smith, said she spent upwards of $150,000 form her own money fighting the guardianship and reversing decisions made by Palm Beach Circuit judges. Her husband, she said, was left personally bankrupt as the guardian liquidated life insurance policies." …
---