Victims of Guardianship and Conservatorship
Lori Duboys was a reform warrior.  She was very active in NY during the 90's and she remained active in guardianship reform until her last breath in July of 2019.
In addition to her duties as NASGA Vice President/Director, Lori maintained a website about guardianship abuse in general and NY specifically.  It was called, "Victims of Guardians."  Later, Lori updated the title to "Victims of Guardianship and Conservatorship."
Because Lori's site will be taken down in 2020 when she is not around to pay for the domain and renewal, we have copied it here on NASGA website, so Lori's hard work and snippets of her vast knowledge aren't lost in cyberspace and can continue to do the good work she would be doing if she were still alive.
VICTIMS OF
GUARDIANSHIP AND CONSERVATORSHIP

(Court-appointed Fiduciaries –
Licensed to Steal?)
Who SHOOK the money tree?
W A R N I N G !!!!!

Guardianship/Conservatorship –
Bad for your Health and Wealth!
---
NO LONGER THE DIRTY LITTLE SECRET
OF THE "JUSTICE" SYSTEM!
NATIONAL AND WORLD MEDIA HAVE LONG BEEN ABUZZ WITH HORROR STORIES ABOUT THE WEALTHY – Astor, Evans, Helmsley, Phillips, Rooney, Spears, among others – AND NOT-SO-WEALTHY, WHO HAVE BECOME VICTIMS OF GUARDIANSHIP (CONSERVATORSHIP IN SOME STATES) AND HAVE HAD THEIR ESTATES DEPLETED OR TOTALLY WIPED OUT AS A RESULT.
Most Americans were unaware of guardianship or its problems until the Terri Schiavo case, which was all about an unlawful "guardianship," with continuing coverup all through the courts. It is one of the very worst examples of what corrupt judges and unethical lawyers can do with the power of life and death in their hands.
DID TERRI HAVE TO DIE SO HER HUSBAND COULD INHERIT THE REST OF HER DAMAGE AWARD?


THAT'S WHAT IT WAS ALL ABOUT, WASN'T IT?
$ $ $ $ $ $ $ $ $ $ $ $ $ $ $ $ $ $ $ $ $ $ $
The big-name well-publicized cases brought to light the little-known problems in these areas and got the attention of Americans on this issue.
But attention alone is not enough!
WHAT YOU NEED TO KNOW ABOUT UNLAWFUL AND ABUSIVE GUARDIANSHIPS/CONSERVATORSHIPS:
Many lawyers write articles suggesting advance directives, including a Durable Power of Attorney ("durable," meaning it remains in effect after a person becomes incapacitated).
Question: But what if you wind up in front of a corrupt judge who ignores the grantor's wishes?
Answer: He may override any legal document executed by the AIP ("alleged incapacitated person.")
Note: The person is only "alleged" to be incapacitated until they are legally adjudged to actually be incapacitated; then they are described as the "ward." Yes, they become wards of the State.
Question: Aren't there any safeguards against that?
Answer: That's up to your state legislators and prosecutors. An honest judge will hold a full evidentiary hearing to determine the validity of a prior Durable Power of Attorney – the issue being whether or not the AIP was incapacitated at the time of execution. A corrupt judge will not hold any hearing; he/she will just ignore the document, and sometimes even invalidate a Last Will and Testament, with a stroke of the pen, putting all sorts of liberties in the hands of the fiduciaries.
Question: Why would a judge do that?
Answer: By unlawfully overriding the previous powers which were lawfully granted, he/she can then engage in patronage – defined as "a type of corruption or favoritism in which a party in power rewards groups, families, ethnicities for their electoral support using illegal gifts or fraudulently awarded appointments" – making work for lawyers where they can feast on fees.
Question: What is the quid pro quo; i.e., what's in it for him/her?
Answer: That we will not know until the prosecutors start prosecuting judicial corruption in a meaningful way.
Question: Do you know what your rights are?
Answer: IF YOU DON'T KNOW YOUR RIGHTS, YOU DON'T HAVE ANY!
---
THE GUARDIANSHIP PROBLEM IS NOT CONFINED TO ANY ONE STATE;
the UNLAWFUL PROCEEDINGS and resultant FEEDING FRENZIES
are rampant all across the country – anywhere there is money to be made!
Who gave fiduciaries – defined in law as "a person of trust" –

a "License to Steal"?

The legislators did!

And they gave them a shocking list of powers –
including life/death decisions!
---
PROBLEMS WITH GUARDIANSHIP AS PRACTICED –

(This site was launched and based on an unlawful guardianship experience in NY State, some time ago,but is fairly typical of corrupt guardianships/conservatorships across the country.)
Some people have described it as a "bounty-hunting" operation, with headhunters running computer searches for financial and personal data on potential victims who wind up in a hospital and transfer to a nursing home (whether by reason of illness or even just a fall on the sidewalk). The nursing home lawyer or someone else then petitions for a guardianship. The assigned judge then distributes his patronage to his pals, in the form of appointments as guardian, conservator, counsel to the AIP, or any other type of fiduciary.
In NY, appointment of counsel is mandatory, according to the statutory "shall," but you have to read this law for yourself to understand how that may not happen. (See NY MHL Section 81 below, together with annotated cases.)
Each state has different laws for these proceedings.
One of the major problems of unlawful guardianship or conservatorship is due process deprivation. Due process is defined as: "A fundamental, constitutional guarantee that all legal proceedings will be fair and that one will be given notice of the proceedings and an opportunity to be heard before the government acts to take away one's life, liberty, or property."
To date, Congress has failed to keep its promise to protect its elder citizens.
In 42 U.S.C. 3001 of The Public Health and Welfare law, Congress made the following declaration:
"The Congress hereby finds and declares that, in keeping with the
traditional American concept of the inherent dignity of the individual
in our democratic society, the older people of our Nation are entitled to,
and it is the joint and several duty and responsibility of the governments
of the United States, of the several States and their political subdivisions,
and of Indian tribes to assist our older people to secure equal opportunity
to the full and free enjoyment of the following specific objectives:
"(6) Retirement in health, honor, dignity – after years of contribution
to the economy.
"(10) Freedom, independence, and the free exercise of individual
initiative in planning and managing their own lives, full participation
in the planning and operation of community-based services and
programs provided for their benefit, and protection against abuse,
neglect, and exploitation."
Without due process, control of assets and property can be instantly given to a newly appointed fiduciary. Victims of such violation learn of this only after the fact.
Question: If a court appointee is already in control of your assets, how can you retain a lawyer of your choice?
Answer: You can't! Many adjudication "hearings" are held which are totally sham, replete with constitutional due process violations, and conducted also in complete contravention of statutory protections promulgated by the states and practice rules issued by the courts.
Who's supposed to watch the guardians?
The judges.
Who's been watching the judges?
APPARENTLY NO ONE!
---
Here's what we learned about guardianship in New York:  In January 1999, the New York Law Journal ran the following story:
"A THREE-YEAR crackdown on court examiners appointed to monitor the work of guardians for incapacitated persons has resulted in the removal of five examiners and the resignations of two others."
(Note: The investigation began sometime in 1995 or 1996.)
On May 20, 2001, the New York Daily News began a series on guardianship abuse, aptly entitled "Milking the Helpless," which began with this headline:
"Attorneys are siphoning off millions from the elderly they have sworn to protect."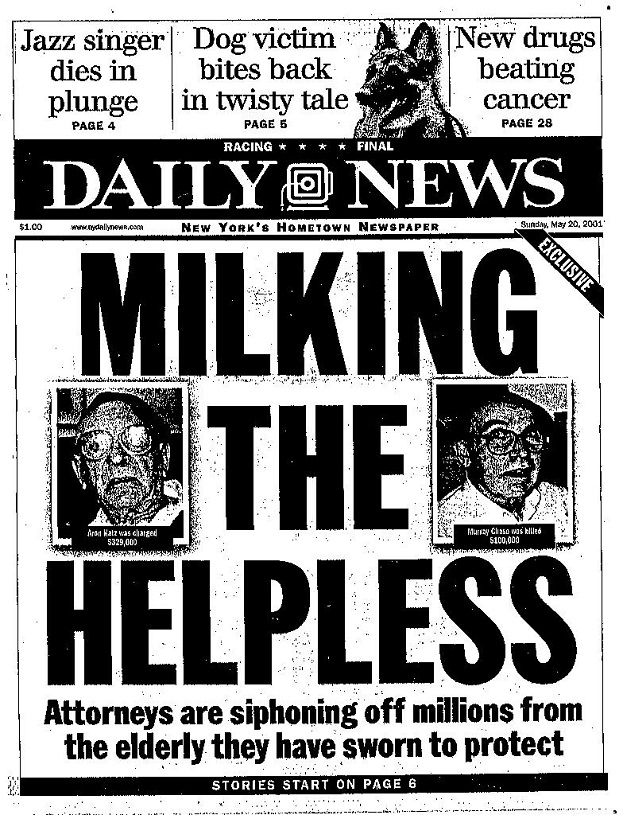 ---
Click here for an example of abusive legal fee billing,
(in violation of fiduciary rules)
Isn't lawyer overbilling, billing for unnecessary services or billing "legal-fee" rates for services not required to be performed by a lawyer, the same as stealing? You can't blame dishonest people for being dishonest when they know they aren't being watched. In fact, isn't overbilling one of the major causes of consumer dissatisfaction with lawyers?
The publicity led to public hearings by a specially appointed Commission and an investigation by a newly appointed Special Inspector General (SIG) for Fiduciary Appointments. The Commission report was issued in December 2001. The SIG report was also issued in December 2001. Neither report named names. Several judges left the bench rather than face charges.
The result? New rules for fiduciary appointments, and a computerized system to track appointments and fee awards. (See below.)
This, almost 10 years after the "Crackdown on Court Examiners" began!!
But who's really responsible?

Here's the list:
* The organized bench and bar and their self-policing organizations,which don't seem to really care how low they are sinking in the public esteem, and who punish the honest lawyer whistleblowers instead;
* the corrupt judges – for perverting the law and not supervising the guardians properly. or at all;
* the court examiners, if they're still being too greedy and refusing to do their work, or do it properly;
* the appellate divisions – for not overseeing the court examiners;
* the Office of Court Administration – for not monitoring everything;
* the legislators, for not holding oversight hearings and putting teeth in the guardian statutes; and
* the executive branch (law enforcement), for not prosecuting complaints against lawyers and judges.
(Note: An Associated Press report showed that most Americans are convinced that political corruption is a deeply rooted problem, and that "people have a real distrust of their government.")
In February 2005 the Birnbaum Commission issued an updated report – with guess what recommendations focusing on the court examiner problems?
"The Commission recommends establishing offices of `court examiner specialists' within the court system to monitor court examiner performance, review work product, ensure that all required accountings are being timely filed and expeditiously examined, and target cases that are out of compliance."
"The Commission also would support bringing the court examiner function in-house.
"The Commission recommends that the court system explore, initially on a limited or pilot basis, the viability of outsourcing the court examiner function to interested and appropriate outside nonprofit organizations.
"The Commission recommends that the Appellate Divisions adopt regular evaluation and reappointment systems for court examiners.
"The Commission recommends that the court system maintain strong internal controls and continue its efforts to develop an active and vigorous auditing system that deters wrongdoing and laxity."
(Note: This, six years after publication of "Crackdown on Court Examiners"!)
IS THE AUDITING SYSTEM WORKING OR DO THE PROBLEMS CONTINUE?
More Money?
"The Commission recommends that the Appellate Divisions consider adjusting court examiner fees, which have not been increased since 1991, to help attract and retain competent court examiners. The Commission recommends that the Part 36 annual compensation limit be raised from $50,000 to $75,000 for court examiners."
---
Click here for an example of a PROCEDURALLY UNLAWFUL GUARDIANSHIP
(involving violation of constitutional protections, statutes, rules, and controlling authority,
and what looks like a $20,000 kickback!)
Seeing the numerous violations, you must wonder whether that judge is simply incompetent or extremely corrupt!
As a former Chair of the NY County Lawyers' Association Committee on Elder Law and drafter of their "Report on Fiduciary Issues: Recommendations From a Guardianship Perspective," would you assume she knew – and understood – the law?
What conclusion can we come to other than that there is obviously still no meaningful oversight, that they won't stop the bleeding, and that the fees are going up, up, up while the assets go down, down, down?
Wasn't the purpose of the guardianship law to PROTECT the assets of the AIP?
This is surely a good law gone bad!
In addition to noncompliance with law as in the above example, there are other more nefarious tricks in use by the "bad guys."
Here's one of them:
Maligning and Intimidating Family Members:
When a family member petitions to be appointed as a guardian, the unethical lawyers (particularly those who make "guardianship" their prime business) will submit affidavits (or affirmations under penalty of perjury) in which they make "conclusory" statements maligning the family member(s), claiming they are not fit to be appointed as guardian.
"Conclusory statements" are those which are merely unproven allegations not supported by real evidence. As a matter of law, they cannot stand alone, but must be subjected to an evidentiary hearing at which the accuser can be cross-examined, in order to determine their truth or falsity.
The corrupt judge, instead of holding such a "due-process" hearing where both sides can be heard, under oath (with or without a jury), simply accepts the conclusory statements and appoints a lawyer, retired judge or legislator instead. (This is a violation of due process.)
Investigation of court records disclosed that the "family blame game" is a popular modus operandi in use by unethical lawyers. When family members don't know their rights or how to legally oppose false allegations, the guardianship perps are left free to acquire the ward's assets for themselves, assisted by the corrupt judge, who will pervert the law rather than obey and apply it properly.
The Internet and more lately, the media, have made the public aware of just how bad the "justice" system is, but every year in the "State of the Courts" speech by the Chief Judge, we get only "lip service" about the loss of public trust in the integrity of the courts, with no meaningful change. It just keeps getting worse!
Question: Do you know why lawyer-legislators won't clean up the acts of their judiciary brethren?
Answer: They're afraid they may have to appear before them some day!
Put the blame where it belongs – on everyone on the list above – all of whom do nothing meaningful to clean up the VERY SICK system.
Question: How can these people permit such an outrage to continue all this long time, after so many individual complaints and the attendant media exposure?
Answer: There has been some movement across the states.

MANY ARE STILL PLAYING DEAD, HOPING THE ROOF WON'T FALL IN!
---
This Should be in Ripley's Believe It or Not:

THERE IS A HIDDEN CONSEQUENCE OF THESE BAD GUARDIANSHIPS, WHICH IS SO IRONIC AS TO BE ALMOST UNBELIEVABLE:
THE VERY LAW WHICH WAS SUPPOSED TO PROTECT THE WARDS, THEIR FAMILIES AND THE PUBLIC HAS BEEN SO PERVERTED BY CORRUPTION THAT IT IS BEING USED TO FINANCIALLY ABUSE THE WARDS AND THEIR FAMILIES AND AS A RESULT, HAS PLACED AN UNWANTED BURDEN ON THE TAXPAYING PUBLIC!
The historical purpose of guardianship – or "lunatic proceedings" as they were long ago known – was that those adjudged to be incapacitated become wards of the State. As wards, they are placed under the custody, care and control of their court-appointed fiduciaries (now "guardian" or "conservator" – the duties of whom were to protect the alleged IP's person and property, invest their assets carefully, and keep the IP from becoming a public charge – under the police power of the state – parens patriae. The police power of the state arises from its duty to protect its citizens.
Question: Is the law being served?
Answer: In a word – "no"!
Lack of oversight – and continuing growing corruption in the system – have actually brought about a totally different result.
What Happens When the Money's Gone?
The greedy, unethical guardian, after bleeding out the estate (whether through unnecessary and excessive legal fees or by outright theft), petitions the court to withdraw. How many guardians do you think have any sense of duty or obligation to stay on the assignment pro bono, without getting paid, when there is no money left?
THE WARD, WHOSE ASSETS HAVE DISAPPEARED,
(AND FREQUENTLY, ALL THEIR PERSONAL AND REAL PROPERTY AS WELL),
NOW NEWLY INDIGENT,
IS FORCED INTO THE MEDICAID SYSTEM
AND HAS NOW ACTUALLY BECOME A PUBLIC CHARGE –
AT TAXPAYER EXPENSE.
(THE VERY THING
THE LAW IS SUPPOSED TO PREVENT!)
---
Have you been victimized by a guardianship proceeding?
Has the court provided due process of law – notice and a fair and impartial hearing?
AND NOW FOR THE $64,000 QUESTIONS:
Was the AIP in your case ever truly "adjudged" incapacitated according to law, or has the entire process been a sham?
Did the court actually have what we call statutory jurisdiction?
Was the "clear and convincing" evidence standard applied?
Was a judgment entered and served; did it spell out everything the law requires?
The lawyers know, but they won't tell you!
In your experience, have the fees charged been "reasonable?
Have all assets been properly accounted for?
If there's a Will, is it filed in court for safekeeping, or has it been hidden or altered?
Do you know?
---
Have you ever tried to get a prosecutor to investigate a lawyer or judge – and just been ignored?
Have you ever complained to a chief judge or administrator and gotten a boilerplate reply: "If you don't like the decision, you can appeal or file a grievance"?
Have you ever tried to file an appeal or judicial or attorney grievance?
Was it dismissed, in a word, with nothing more?
Have your individual pleas fallen on deaf ears?
Welcome to the Club –
You have experienced JUDICIAL AND GOVERNMENTAL CORRUPTION!!!

---
Reform will never come from within the system unless and until there is a huge public outcry.
If you want reform, you have to work at it.
Did you know that even minors with personal injury awards are targeted for guardianship (with the same asset depletion as the vulnerable elderly)? Both young and old victims, their families, and the UNWARY TAXPAYERS must be protected. If the states don't clean up their own acts, federal intervention is necessary to ensure that the laws will work as originally intended.
(See Report/Reference Links Below)
NYS OFFICE OF COURT ADMINISTRATION
REPORTS AND REFERENCE LINKS
REPORTS:
2001 Report of the Commission on Fiduciary Appointments
2001 Special Inspector General's Report:
Fiduciary Appointments in New York
2004 Report of the Supreme Court, Queens County, Grand Jury
Issued Pursuant to Criminal Procedure Law § 190.85(1)(c)
Concerning Thefts from Guardianship
2005 Report of the Commission on Fiduciary Appointments – Report, Appendices, & Survey
2005 Best Practices, Guardianship Proceedings, Second Judicial Department

REFERENCE LINKS:
NY Guardian Statutes: Mental Hygiene Law Section 81, Indexed
MHL Article 81- Collected Cases with subject matter index (Current through January 15, 2015)
Guardian and Fiduciary Services – Mission
More detail on Guardian & Fiduciary Services 
Public Access to Part 36 of the Rules of the Chief Judge

NOW YOU CAN LOOK UP HOW MANY TIMES YOUR PERP WAS APPOINTED,
HOW MUCH THEY WERE AWARDED.
AND WHETHER IT WAS MORE THAN THE LAW ALLOWED,
OR NOT ALLOWED AT ALL, BUT PAID NEVERTHELESS!

In this last section above, Public Access to Part 36 Database, you can find search forms for:
Eligible Lists – Individuals eligible for appointment by category/county
Notices of appointment filed with the Office of Court Administration pursuant to 22 NYCRR §36.4
Approved Compensation – Fees approved pursuant to Part 26 of the Rules of the Chief Judge
Reports of approvals of compensation received by counsel to the Public Administrator, filed with the Office of Court Administration pursuant to 22 NYCRR §36.4(e)
Eligibility/Appointment/Compensation Information

Unfortunately, each search has to be made separately, for one year at a time.
In this age of hi-tech???
(The system has never been improved over these many years, to make search easier.)
But after you dig out all the information on your perp or perps, you can then go to the next step.
Part 26. Filing of Statements Pursuant to Judiciary Law Section 35-a

Was the appointment and/or award lawful?

More NY Court Topics, beyond guardianship – A to Z

AND LAST, BUT NOT LEAST:

Chief Judge Jonathan Lippman's 2015 State of the Judiciary Speech:
"Access to Justice: Making the Ideal a Reality"

On page 14 he speaks of "Restoring Integrity to the Fiduciary Appointment Process."
Question: What was it that they promised in 2004 – ten-plus years ago?
Answer: "Restoring Public Trust and Confidence"?
Read NASGA's indictment of guardianship/conservatorship as practiced today: www.STOPGuardianAbuse.org

For the latest up-to-the-minute news, visit NASGA's blog at: http://www.NASGA-StopGuardianAbuse.blogspot.com

VoG 2001-2019 ©

This site is operated in the public interest.  Any copyrighted material included herein is distributed in accordance with the Fair Use section of 17 U.S.C. 107, in the interest of public research and education, without profit.