by Lonnie Brennan
It started out simply: a retired Boxford lawyer, Marvin Siegel, got along in years, and as he approached his 83rd year amongst his fellow men, he began to slip a bit, needing some help around the house. His family pitched in, and at one point, a service that provided checkups on the elderly would visit with Mr. Siegel and see to his needs.
As time went on, his needs increased and a family member related that it made sense for his youngest daughter, a lawyer like her dad, to move into the family home with her father. (The eldest daughter lives thousands of miles away, and the middle daughter has some "issues" according to her younger sibling.)
Things appeared fine at first, having one daughter, her husband and two of his grandchildren fill the voids in his previously silent home. Dinners together, helping out with laundry care, just watching TV together and bringing joy to Mr. Siegel…Then one day, the grandkids returned home with their mom, and found their grandfather being taken away in an ambulance.
According to statements from the daughter and court documents (and we're in the process of obtaining more documents, and scrutinizing hundreds of pages of filings and transcripts and listening to the court recordings), the visiting helper felt that Mr. Siegel was in an ill condition, tired and apparently forgetful. She called for an ambulance and he was transported to Beverly Hospital. From there, he was transported to another facility for evaluation, and that's where the drugging began.
According to his youngest daughter, Mr. Siegel is medicated against his wishes, isolated from her, has had his cell phone taken away from him by his court-appointed guardian, and has 24/7 "guards" (medical providers) with him at his home in Boxford. She notes that within months of the ambulance ride, and the subsequent involvement of court-appointed personnel, she and her family were kicked out of her dad's home, and she's been prohibited from visiting with or having any communication with him.
That was five years ago.
Oh, and his bank accounts have dwindled over the past five years, with his net worth apparently oozed away, going from approximately $9 million to less than $4 million, and shrinking.
Ah, the money. Follow the money.
And where has that money gone?
As an example, various court documents reveal that one local lawyer, Marsha Kazarosian of Haverhill, billed the retired lawyer's holdings in excess of $200,000 in just one 12-month period. Apparently, other lawyers and groups associated with the Mr. Siegel similarly drew sums of money from the multi-millionaire, against his expressed wishes.
Kazarosian billed more than $200K in one 12-month period
Ironically, one of the daughters had initially hired Atty. Kazarosian to help ensure her father's original estate planning would remain intact. The daughter relates and presented to court an argument that despite a filing by Atty. Kazarosian detailing under oath that the multi-millionaire was fully competent of handling his own personal affairs, something changed. Within a short period of time, Atty. Kazarosian switched teams, signed on to work for a court-appointed guardian for Mr. Siegel, and began working against Mr. Siegel's daughters.
But wait, it gets better.
Mr. Siegel attempted to fire Kazarosian for going against his wishes, but she refused to be fired. Instead, she took his signed, hand-written dismissal letter and consulted with the court-assigned guardian, Attorney Brian Cuffe. Together, the two – in spite of the letter – agreed that he would keep her on the dole, his team, protecting Mr. Siegel's estate from his daughters and grandchildren.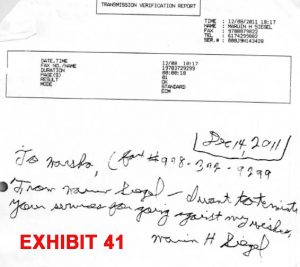 Yes, you read that right. To date, two of the three daughters have been accused by the various court-appointed parties and those who have drained money from their father's estate of taking advantage of their father, specifically blaming the daughters for the loss of funds. What? Why? Because, if the daughters would simply shut up and go along and get along, and not object to the guardian's and the lawyer's handling of their father's funds, then no one would have to go to court to fight the daughters. That way the lawyers would not have to bill such large sums, draining his accounts so quickly. What?
At one point, one of the daughters submitted that she was offered a $100K settlement if she would just simply walk away from her father and his millions. She termed it a bribe, and refused.
Out-gunned, Out-maneuvered
Two of the daughters filed multiple "complaints for emergency and preliminary injunctive relief" against various parties whom they have accused of having a part in the taking of funds from their father. The accused parties have included, but are not limited to the following:
BNY MELLON ASSET
MANAGEMENT, LLC,
BRIAN NAGLE of BNY Mellon,
BURNS & LEVINSON, LLP,
LISA CUKIER, ESQ,
LAURA STUDEN, ESQ.,
TARLOW BREED HART &
RODGERS, PC,
EDWARD TARLOW, ESQ.,
ALBERT DeNAPOLI, ESQ.,
CATHERINE WATSON, ESQ.,
KAZAROSIAN COSTELLO &
O'DONNELL, LLP,
MARSHA KAZAROSIAN, ESQ.,
WALTER COSTELLO, JR., ESQ.,
BRIAN CUFFE, ESQ.,
JAMES FELD, ESQ.,
ROBERT LEDOUX, ESQ.,
MAXA BERID, ESQ.,
BERID & SCHUTZ BANK, LLC,
ELDER SERVICES OF MERRIMACK VALLEY, INC.,
THOMAS BARBAR, ESQ.,
DIANE POWELL, SCOTT DAILEY, MICHAEL SPRINGMAN, with Elder Services of Merrimack Valley, Inc., and individually,
CHERI MYETTE, ESQ.,
MICHAEL NOVACK, LICSW, with ELDER RESOURCES, INC., and individually,
MARY ANN REMILLARD, ESQ., in her official capacity as a State actor and individually, NORTHEAST HOSPITAL CORPORATION, d/b/a BEVERLY HOSPITAL,
WHITTIER HEALTH NETWORK, INC., d/b/a WHITTIER PAVILION,
RICHARD GARMIL, ESQ., in his official capacity with Whittier Pavilion and individually,
MERRIMACK VALLEY HOSPITAL, d/b/a STEWARD FAMILY HOSPITAL, INC.,DR. JANICE FUNK,
DR. PING CUI,
PIERCE & MANDELL, PC ,
BRANDON SAUNDERS, ESQ.,
DR. KAI HAYES,
DR. ROBERT PORTNEY,
DR. PETER W. COHEN,
KENNEY ENTERPRISES, LLC,  d/b/a RIGHT AT HOME,
BRENDA WOJICK, R.N., in her official capacity with Right At Home and individually,
SHERYL SIDMAN,
ALAN SIDMAN,
COMMONWEALTH OF MASSACHUSETTS
But the family notes that they are out-gunned, out-financed, and at every turn out-maneuvered. The lawyers they have gone up against, and the corporations, and those (Cuffe and others) who can use their own money as well as their multi-millionaire's father's money against them have had a clear advantage. And the courts have not been kind to the daughters.
Indeed, in one rebuke, the daughters were apparently slammed by the courts for excessive filings. "We've been hit with judgments because we're fighting these people and have submitted too much paperwork, can you imagine?" daughter Lisa Siegel Belanger related. "I submit the documentation because I don't want this to be about our opinion, or who is credible or not credible. I submitted the documents so that anyone who cares can read them and rule on the facts. The facts are there. The documents show what they have done, how they are drugging, isolating, and draining my father's funds."
To summarize the case, which has been in and out of probate court, and pending now in new filings, the family wrote the following:
"With well-established circumstances, Attorney Siegel memorialized his own unequivocal intentions and desires in a panoply of executed estate planning, he explicitly designated his youngest daughter, Attorney Lisa Siegel Belanger, as his attorney-in-fact and his eldest daughter, Devora Kaiser, as successor attorney-in-fact. The two outmost important things Attorney Siegel cared about was: 1) his reputation and dignity and 2) his three (3) daughters.
Through a convoluted vortex of circumstances, on August 4, 2011, multi-millionaire Attorney Siegel was thrusted under a court appointed guardianship and conservatorship, unlawfully ending up with judicially deemed ward of the Commonwealth on August 17, 2011."
With their father's wishes being ignored, and getting no relief from probate court, the daughters had attempted an appeal to federal court. One portion of the transcript notes a daughter stating: "This initially starts off before that where my father, Attorney Siegel, had his established durable power of attorney and array of estate planning instruments for a long and continuous [time]…we're here because of the fraudulent ouster and dismantling of that durable power of attorney."
In English, that means that the daughter is accusing and presenting evidence that those in power – from the doctors to the hospitals to the lawyers entrusted with handling her father's estate, dismantled years of estate planning instruments, stripped away all powers from the multi-millionaire, began a process of administering various drugs, have aided in isolating him from his family, and have been a party to draining his estate.
On page 31 of 97 of just one filing, the family states that a lawyer, cognizant that Mr. Siegel was being "involuntarily drugged with antipsychotics," did "surreptitiously, through fraud and deception…" secure a signature from Mr. Siegel which set off a chain reaction, undoing years of his estate planning, while Mr. Siegel was in a psychiatric facility for two days of evaluation. The results of the evaluation showed no psychiatric issues and Mr. Siegel was subsequently released to his home.
EDITOR'S NOTE: While our team continues to acquire, inspect, assess, and evaluate the copious documents related to this case, we have been given two warnings which we have been instructed to relate to our readers:
1.  All parties on both sides are presumed innocent until proven otherwise, through all appeals processes.
2. Seniors who don't have millions of dollars are similarly at risk. Why? Because they may be worth tens or hundreds of thousands of federal or state dollars in Medicaid or other government programs, and that any assets they may have may similarly be subject to plunder by those who are unscrupulous.
We'll relate more on this case, and others, in future issues of the Boston Broadside.
Warning to Seniors: Rich or Poor, You're Worth a LOT to Lawyers, Courts, and Service Agencies!
---
Seek to Shut Down Drugging, Embezzlement, Fleecing of Seniors  ̶  Judge Denies Hearing
---
In March of 2020, Netflix aired a one hour documentary about guardianship abuse titled, "Guardians, Inc."  Lisa Belanger introduced and narrated the first story which involved an elderly gentleman named John Savanovich, who was apparently targeted and lost everything he had, including his freedom.
The outrage over what happened to Mr. Savanovich has been heard from countries all over the world.
NASGA's deepest appreciation is extended to Jigsaw Productions for the hard work and heart they put into "Guardians, Inc."