July 3, 2017:  Godspeed Ginger Franklin – enjoy heaven!
Best Friend of Advocate Mary Ann Watson
This is the story of my friend Ginger who is now under a guardianship because of a traumatic brain injury from which she has completely healed. We have tried so hard to get her guardianship terminated, but have been unsuccessful so far, but may be very close.
We were right out of high school, in the late 70's – early 80"s. Life was good! We met at the mall, and became great friends.
Ginger's mom was in the music business, so we went to lots of big shows in the city. Then, tragedy began to strike. Ginger's mom's cancer had returned. She'd previously had a double mastectomy. All of her sisters had cancer as well, so doctors advised the daughters to get checked out. There it was….CANCER! Ginger's mom died and shortly thereafter she had a double mastectomy with immediate reconstruction. It was such a shock. I'd never known anyone with cancer, let alone my 25 year old best friend! . There were several plastic surgeries after that, but she did great.
Fast forward 25 years to a successful career, and a new condo. However, implants had to be replaced (for the 3rd time), and it was quite painful. She'd just had it done when we moved her into her new condo. Too much lifting that soon after the surgery didn't help. The incisions were very painful this time. A few months later at a checkup, doctors saw something they thought were "leaks" and recommended the implants be replaced. So, they did, and found ..they WEREN'T leaking after all. It had been needless surgery, and it was even more painful this time. You can't keep cutting into somebody and expect there'd be no pain. The pain continued for a long time. They ran her through every kind of test imaginable, due to her being a cancer survivor. This lenghty period of surgeries, pain, test, and more tests, took a tole on Ginger, as it would anyone.
The Fall
I hadn't seen Ginger in a couple of weeks and late one night my phone rang. It was a friend calling to tell me that Ginger had fallen down the steps of her condo and it was serious. She was in the hospital and they weren't sure she'd live. I rushed to Nashville, but got there too late to visit.
The next day I made sure to make it before visiting hours were over. I went into ICU and was terrified at what I saw. Ginger's left eye was swollen shut and it was the darkest purple I'd ever seen. They considered Ginger non-responsive. There was lots of swelling, as well as bleeding on the brain. No one knew what state she'd be left in. Days went by, and there was no one legally who could manage her affairs. Her aunt was advised not to, and to make her a ward of the state….they'd take care of her. Beginning of the night mare!!!
She went to a rehabilitation center for a couple weeks, then was moved to a traumatic brain injury facility for 3 to 4 weeks. All this without her even being told where she was going or why. In the meantime her guardian found a mental health group home to stick her in, and brought her back from the traumatic brain injury facility. When I went there to visit, I was in TOTAL shock. The people there were seriously ill. It was a VERY small house and Ginger in a bedroom with 3 other patients. I left there feeling very sad. I wanted to go back and get her.
I went to visit as often as I could and began to bring her home with me. She desperately needed a break from being locked up with paranoid/schizophrenic, manic people. She began to have the appearance of an institutionalized person herself and was on so much medication. She was not herself from the effects of the medication, as well as the injury. It broke my heart. She spent holidays with me and my family and I tried to give her some normalcy to life, because there was certainly none where she lived .The days that I had to take her back were heart wrenching for her. She would be so sad. I hated taking her back there too!
All her belongings were moved out of the condo by "friends"…. things are still missing. I did the belongings that were left moved to a storage unit close to me so hopefully nothing will ever happen to them. Ginger cherishes many keepsakes from her mother, grandparents, and aunt.
More About the "Group Home"
Ginger couldn't go into the kitchen, she couldn't go to the mailbox, so, it really was like being in jail. There were 2-3 times when Ginger was threatened by patients. There was no use calling the guardian who'd been appointed to take care of her…she wouldn't return her calls. One of the patients pushed her and yelled at her several times. That patient was eventually moved to a home where she could be supervised. Enter another patient who was VERY manic. She scared me when I went to pick Ginger up. I thought about how terrible it would be to be locked up these people. This patient threatened to hurt Ginger and said to other's that "they didn't know what she was capable of". The facility owners came the next day and put a lock on Ginger's door. They weren't planning on moving this patient, until she went off while they were there and they had to take her away.
Many times facility owners or people who worked for them would come get Ginger, without any prior notice, or even ASKING her if she would mind helping…. and take her to do work that they needed done. She did all the grocery shopping for the home, and other homes- carrying it all in and putting it all away with no help from them. There were times when they would sit in the car while Ginger did the grocery shopping for a month at a time. Once, while out with an employee of the facility, a patient got away and started walking down a busy street. Ginger was sent to follow her on foot until she could be picked up.
Ginger was taken to shop for groceries for all the facilities, often while owners waited in the car for her. Ginger cooked all the meals for the patients at her home, dispensed medication to patients, and in general was a "house mother" to them. She was even taken to clean the homes of the owners -that were in deplorable, sickening conditions, food covered plates- with ants and roaches crawling everywhere! She cooked meals for other group homes, cleaned after patients were moved from place to place, packed their clothes and belongings, even was left alone with patients who were known to try to run away. She was told to watch them until someone else who actually WORKED there got back. The patient tried several times to leave. They even had Ginger do computer work for them, putting medications into data banks of patients. Once, while on a shopping excursion with others, one patient walked away and headed down a busy street. Ginger was asked to follow her until the person in charge could either get the police there or get the patient back in the car. (Does this sound like someone who needs a guardian over her??)
See: Ginger's Story
---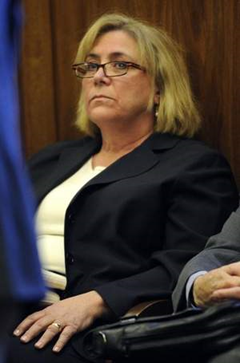 Davidson County Public Guardian's Fees
Exceed $1.8 Million
"In all, Stuart has billed for more than $1.8 million in fees since January 2008, when she took on her role, according to The Tennessean's data analysis." …
---
Client's car towed, sold while in lawyer's care
"For months, Ginger Franklin has been trying to find out what happened to the 2001 Nissan Altima she owned before she was placed in an emergency conservatorship.

At first she was told her car had been repossessed and sold by the bank holding a note on the vehicle.
The Tennessean was given the same answer when it first questioned Franklin's conservator, Jeanan Mills Stuart, about the whereabouts of the car in February.
Stuart said Franklin was "upside down" on the car with an outstanding loan exceeding its value. She referred questions to the attorney who had handled Franklin's bankruptcy.
The attorney, Maria Salas, however, told The Tennessean there was no loan on the car and the vehicle was never brought into the bankruptcy case."…
---
A woman who was placed in a conservatorship without her knowledge has won a $23,050 award from a Sumner County court against a group home that put her to work caring for other residents while she was paying an $850 a month fee.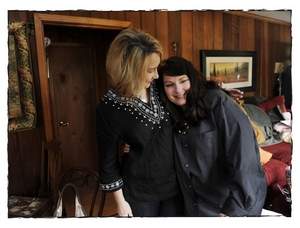 In a four-page ruling Circuit Court Judge C.L. Rogers ruled that Ginger Franklin of Hendersonville, who was recovering from head injuries, was the victim of "egregious and intentional abuse" while she was confined at a Nashville facility run by Salim Homes.
In the ruling, Rogers concluded that Franklin suffered "mental anguish of grief and worry" when she was forced to provide care for other disabled adults and perform cleaning duties for the owners of the group home.
by Walter F. Roche, Jr.
A Hendersonville woman who lost her home, car and all her belongings in a highly contested conservatorship case has died.
Ginger Franklin, 58, died Monday. Her controversial conservatorship case was one of a handful that sparked a reform effort leading to a 2012 change in Tennessee law.
Franklin also successfully sued the owner of a group home where she was placed against her will and put to work cleaning and cooking for other residents even as her bank account was being tapped for a monthly fee.
Franklin's case came to the attention of a national organization established to halt abuse by guardians and conservators.
"The system didn't just let Ginger down; it used Ginger and exploited her for its own benefit — at her expense and to her detriment, all under the deception of protection and on Judge David 'Randy' Kennedy's watch," said Elaine Renoire, head of the National Association to Stop Guardian Abuse, referring to the Davidson County probate judge who presided over Franklin's case.
Franklin ended up in a conservatorship without her knowledge in 2008 after she fell in her condo and suffered a brain injury. She was shipped to a rehab facility in another state, and when she returned to Tennessee she was told by her court-appointed conservator that her condo was empty and being sold.
She was placed in a group home and put to work.
A judge would later rule that Franklin was the victim of "egregious and intentional abuse."
Salim Homes was ordered to pay Franklin $23,050.
Franklin's conservator was Jeanan Stuart, then the public guardian for Davidson County. Stuart was eventually forced to resign from her job after a series of articles in The Tennessean raised questions about her billing practices.
In Franklin's case, records showed that Stuart seized and then abandoned a car Franklin owned. It was subsequently seized by the garage owners and auctioned off.
Franklin made several attempts to have the conservatorship lifted but was rebuffed by Stuart and Kennedy.
She wasn't finally released from the conservatorship until 2010.
Franklin also filed suit against Stuart, charging that the attorney had violated her fiduciary duty by failing to act on her request to have the conservatorship dissolved and for mishandling her assets, including her car.
A circuit court judge denied motions by Stuart to have the case dismissed. The suit was eventually dismissed voluntarily.