With increasing numbers of Americans living longer, many are finding themselves under guardianship. The guardian appointed may be a family member or friend, or a guardianship services provider  (a "professional" guardian or guardianship company, or a public guardian).
In many cases, the guardian is honest and hardworking. However in some cases,  the guardian abuses or exploits the person the guardianship was put in place to protect. The exact magnitude of this problem is not known, but the growing number of articles in the popular press (news reports, single articles and series)  tell the story.  And now, the story is told on film!
The Unforgivable Truth
How We Have Turned America's Greatest Generation into America's Abused Generation
by
The EARN Project
About the Film and the Filmaker
First and foremost EARN is all of us, the citizens of the United States. Some who have already been touched by the chilling hand of financial elder abuse and exploitation and others who have not but, considering our very vulnerable rapidly aging population, are determined to insure their families and loved ones will never have to experience this tragedy.
We are the people who work hard and have something to leave behind. We live honorable lives, bear the largest tax burden, vote in greater numbers than any other demographic group and most ardently believe that we have EARNED the right to expect those we elect, and who's wages our tax dollars pay, place our interests and safety before institutions who woo them with lobbyists and financial help for political campaigns. Though we are not people who will block the town square or lie down on the courthouse steps our numbers are huge and our voice a deafening roar when we speak together.
The EARN website is where we come together, tell our stories, find information on organizations that can help and, most importantly, use our roar to get swift passage of laws and regulations that minimize the possibility of financial elder abuse and exploitation of ourselves and those we love.
WE WILL BE HEARD!
EARN was born out of the sad case of Mercedes Kibbee and her Kibbee Kids project. In an attempt to find resolution to this heartbreaking situation Mercedes' daughter embarked on a long and disappointing education on how this country deals with financial elder abuse and exploitation.
Mercedes is a particularly tragic story because it not only involves the betrayal of a frail, and dying woman's trust in institutions and individuals she had employed to carry out her wishes but because of the cost paid by the ultimate victims of this heinous predatory conduct – generations of very needy children who will now continue to fail in school,experience neglect at home, and go to bed hungry each night without the wonderful Kibbee Kids project Mercedes believed she had left them. It is made even sadder because of the enthusiastic participation in preventing these children from receiving this wonderful legacy by an institution that we Americans have for generations held close to our hearts- the YMCA.
The complete story of Mercedes Kibbee and her Kibbee Kids Project can be found, in company with those of her many fellow victims on this website. EARN is you. It is all of us. Don't let the next story on the EARN website be yours. Join us in building a single voice too loud to ignore!
HELP US ROAR! 
Guardians, Inc.
by JigSaw Productions
for "Dirty Money" Season 2, Episode 5
Aired on "Netflix"
The rampant abuse of laws meant to protect the elderly has left many seniors penniless, powerless, and isolated from their families.
If you are a Netflix subscriber, click here to view "Guardians, Inc."
If you are not a Netflix subscriber, click here to subscribe  (and pay the subscription fee) and then click the first link to view "Guardians, Inc."
"Laura cares about the people she's filming," said documentary veteran Steve James, who executive produced "Edith + Eddie" as well as Checkoway's first film, "Lucky."
Checkoway's background is in print journalism, most notably profiles and features for Rolling Stone, The Village Voice and Vibe.
Her transition into documentary was relatively natural, she said. The demands of a new medium felt like more of an adjustment than moving beyond the world of celebrity.
"I became a documentary filmmaker, maybe without consciously realizing it, but because I wanted to tell the stories of everyday people," Checkoway said.
Checkoway hopes "Edith + Eddie" audiences will consider society's posture toward the elderly and vulnerable, take a host of questions with them and begin looking for answers.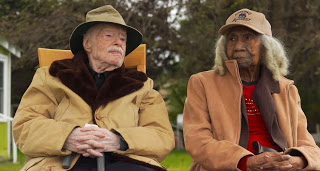 Two lovers against the world. A relationship trying to beat the odds.
The title figures were newlyweds when Checkoway met them. Edith, who is black, and Eddie, who is white, dated for a decade before tying the knot at 96 and 95, respectively.
"It started really as a sweet love story, and just a testament to finding love in that season of your life," Checkoway said. "They'd both been so awakened by each other. It seemed to give them a new reason to want to get up in the morning."
It quickly became evident that another drama was bubbling up below the surface. Edith's daughters were at loggerheads about how to care for their mother, and a legal guardian — who had never met Edith — was appointed to intervene.
As events unfolded, Checkoway was confused by what she saw. She initially thought this power struggle was an isolated incident but, after doing her homework, learned Edith and Eddie's story is an all-too-common one.
The film became a meditation on how we treat our elders and a painful glance at the guardianship system, which Checkoway called broken and predatory. Checkoway's affection for her subjects, and the disorientation she feels with the viewer at seeing their potential fate, is clear throughout.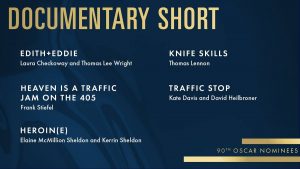 Edith+Eddie receives Oscar nomination!
Please JOIN the Edith+Eddie Facebook page and support and promote this film!  
About the Film and Filmmaker
The Guardians exposes corruption in Las Vegas municipal government's involvement in the kidnapping of elderly people under the color of law in order to steal their estate.
In an unfolding saga that reaches to the top level of government, growing communities of Las Vegas Clark County victims come together to bring the corrupt cabal of judges, lawyers, court clerks, doctors, and nursing home employees to justice.
What investigative filmmaker Billie Mintz exposes in this documentary is how many people are involved in a systemic conspiracy against the most vulnerable members of our society.
(Billie Mintz is a documentary filmmaker, social justice advocate, and National Geographic correspondent for the show, Explorer.)
Jody Santos is an award-winning journalist, author, and documentary filmmaker. She has reported for television, print news, and public radio for the last 20 years, and has been producing and directing documentaries for PBS and cable networks like Discovery Health and the Hallmark Channel since 2000.
Regardless of the medium, her goal has remained the same: to shed light on the social injustices of the day. Her reports often focus on the issue of violence against women and children and ways to prevent violence in our communities.
 View some of her work (including No One Left Behind, a PBS special about a crusade to free people with disabilities from abuse worldwide) and to see candids from her recent shoot in Africa.
Jody Santos Talks About Her Film…
Two years ago, I began work on a documentary for public television about the millions of people with disabilities worldwide locked away in orphanages, psychiatric facilities, and other institutions. In one rehabilitation center in Mexico, I saw beds that turned into cages and children with cerebral palsy whose limbs were wrapped so tightly in bandages and duct tape, they essentially had been "mummified" into submission. When I returned to the US, I received an award for my investigation from an organization in Western Massachusetts that works to provide access to people with disabilities. After the ceremony, a staff member told me about a 31-year-old man that brought me right back to the horrific abuse I'd witnessed abroad.
As a 10-year-old boy living in New York, Adam Graziano had suffered a traumatic brain injury while in-line staking without a helmet. Six months after emerging from a five-week coma, he attended a ribbon-cutting ceremony for New York City's first traumatic brain injury unit for children. "Wear your helmet," he urged other kids as part of a "get it on!" public education campaign featured in the New York Daily News. While doctors cautioned that Adam would never be the same again, no one imagined that 20 years later, he would be languishing in a nursing home in Holyoke, Massachusetts – one of several institutions he'd lived in for the last decade.
Given the progress the US has made in enacting laws to ensure the rights of people with disabilities, particularly the right to be integrated into society, I initially thought Adam's case was the exception in this country. But the deeper I dug, the wider the floodgates opened – and the more retaliatory the American institutions I investigated became. While I was never arrested during my inspections of facilities abroad, the first time I tried to visit Adam, I was escorted off the premises by police and threatened with two years in prison. Adam himself faced much harsher penalties as he pursued legal avenues to leave. He was subjected to chemical restraints administered against his consent and was denied his right to visitors. Desperate to reach the outside world, Adam took to Facebook, posting a photo of his torso pockmarked with bruises and writing: "These motherfuckers are FUNKEN crazy at this neroreablation center…Can anyone help?" A lawyer with the Disability Law Center later confirmed the bruises were from staff holding Adam down and injecting him with meds.
When Congress passed the Americans with Disabilities Act in 1990, Senator Edward Kennedy called the legislation an "emancipation proclamation" for people with disabilities. No doubt, we've seen much progress since then, with state officials reacting swiftly last year to reports of abuse at the Peck School in Holyoke, Massachusetts, for instance. On the surface, New York State has been a leader in deinstitutionalization. At one time, the state had 22 institutions serving more than 27,000 people; by 2017 only two facilities in the state will be left, serving a total of just 150 people.
However, NY officials have engaged in a kind of shell game with their state's most vulnerable population. Based on New York Department of Health reports gathered through FOIL requests, the state appears to be paying almost $80 million a year to export 800 of its neediest nursing home patients to Massachusetts, New Jersey, and Connecticut. At the Holyoke Rehabilitation Center (HRC) where Adam lives, New Yorkers fill 133 of the nursing home's 162 beds. "It's harder to create home-based and other support programs than to just outplace them somewhere else," says Disability Rights New York executive director Tim Clune. "In terms of quality control and patient discharge, New York can simply wash its hands."
"It's kind of like rent-a-bed," adds Northampton disability rights attorney Steven Schwartz. With just one out-of-state patient bringing in as much as $180,000 a year, agencies like HRC send representatives to New York hospitals to market to families caring for loved ones who have suffered a brain injury. The placements are supposed to be temporary, but some patients end up staying for close to a decade. Schwartz says this outsourcing is happening at other types of places as well, including the notoriously punitive Judge Rotenberg Educational Center in Canton, Massachusetts.
Twenty-six years after the ADA, how can so many men, women, and children labeled with disabilities still be confined in institutions? The reality is that big business is often more powerful than the government and courts. Providers like HRC shape how the system operates, from the type of care patients receive to how much states pay for it. They petition the courts to appoint guardians for their patients (often the same few people), who have almost complete control over every aspect of their wards' lives, including whether they ever leave the institution and how much they are medicated.  Industry groups also have opposed mandating community services, saying such measures could jeopardize funding for those who really need to be in nursing homes. Lastly, many states also have avoided the arduous process of revising budget structures that favor institutions.
On a more subtle level, the continued isolation of Americans with disabilities seems rooted in fears about difference, resulting in the normalization of what amounts to blatant discrimination. In the city of Springfield, Massachusetts, 50 percent of students with emotional disturbances are segregated to the Public Day School, which operates elementary, middle, and high schools in three locations in the city. According to one attorney working on a federal lawsuit against Springfield, city officials have contracted with a private company to provide "behaviorists" to carry out BIPS (behavioral intervention plans) at the schools. These BIPS include subjecting students to facedown restraints and isolating them in a padded room. At the high school, teens are deprived of a prom and yearbook, athletic teams, and even a cafeteria.
When the Supreme Court ruled in 1999 that institutionalizing Americans with disabilities violated the ADA (a landmark case known as Olmstead), 29 states produced plans to move disabled people out of facilities. However, according to the Justice Department, 400,000 people are still on state waiting lists for home-based care. The post-ADA experiences of Americans with disabilities parallel those of people of color after the passage of the Civil Rights Act. Journalists and the entire country again need to take a stand, even though it is not always easy or comfortable for them to do so.
While touring an orphanage in the Republic of Georgia for my PBS documentary, I met a three-year-old boy named Erekle whose head was the size of a basketball due to his advanced hydrocephalus. Despite the excruciating pressure being placed on his brain, doctors had determined he was "too far gone" to merit any type of treatment. When I returned to the States, I began a campaign to obtain surgery for the boy – to have a shunt inserted that would alleviate the pressure on his brain. One doctor friend told me I should focus on children who had a future – not a child who would be severely brain damaged for the rest of his life. As I contemplated flying back to Georgia to help Erekle, I consulted with an ethicist at Baystate Medical Center. "The only thing worse than being abandoned is being ignored," he wrote in an email back to me. "To the inner-voice that might chime, 'Why focus on someone who can't appreciate it?' I would say this: "if rights are inalienable, then they exist whether persons are aware of them or not."
---