Husband of NASGA's New York Legislative Liaison Sara Harvey
Note:  We mourn the passing of Gary E. Harvey this past Sunday, April 23, 2017 and we pray for peace and strength for his loving wife, Sara, who was only permitted to see her husband for only 20 minutes in the last four years.   Gary committed no crime but was kept in isolation as if he were a prisoner and he was denied the comfort and love of his wife when he needed her most.    For 11 long and torturous years, Sara never stopped fighting for Gary; he couldn't have picked a more loving and dedicated wife.   Godspeed, Gary Harvey.
For those of you who love Gary Harvey or his wife, Sara, or wish to express your sympathy, please leave a message of condolences at this site:  http://www.legacy.com/obituaries/star-gazette/obituary.aspx?n=gary-e-harvey&pid=185216220&fhid=13261.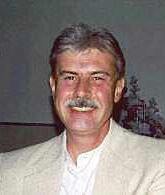 Click to JOIN the national movement to Rescue Gary Harvey on Facebook:
---
Read and print the Rescue Gary Harvey leaflet!
---
Read and print the Rescue Gary Harvey brochure!
---
Listen to the August 2011 Interview on dis-Respect radio
Summary: For six years Gary Harvey has been minimally conscious on a drug regimen at cash-strapped St. Joseph's Hospital in Elmira, N.Y. While his bank account empties he has undergone 31 surgeries in the past two years, according to his wife, who has no say in his insurance claims or treatment, has been removed as his Guardian, and has awaited an August ruling to begin bringing her husband home.
Gary came to this world in 1951. Raised to be a child who cared, Gary is a life-long resident of New York, and because Gary cared – Gary never left New York except to serve his country in the U.S. Military.
As a child Gary cared about family, and God. He loved the outdoors and the beauty of his childhood surroundings, his dogs and the time they spent in the great outdoors. Gary cared, it was the tumultuous 60's – everyone cared about something, and many were dying – because they cared. It was the 60's.
In 1969 Gary was called to serve his country – and because Gary cared, he left the comforts and beauty of his childhood, his dog, his peace – and Gary went to serve, because he cared – at a time when others did not care.
Gary Harvey is a proud US Veteran, he served with honor in the era of Viet Nam discontent…. Gary did what others would not — because Gary cared.
Honorably discharged in 1971 — Gary returned to the familiar grounds of his New York childhood — because Gary cared. He cared about his memories, he cared about his family, his fiends and all the things that were familiar to him, namely the peace, following wartime.
Settled back in New York, Gary took up his career in engineering. He met his soul-mate, and because Gary cared — they married and lived, joined at the hip, in the peaceful harmony of what was now – mutual caring.
But as fate would have it – on January 21, 2006 Gary Harvey had an unfortunate accident, struck his head, and suffered a traumatic brain injury which has returned Gary to battle. A US Veteran fighting now, for his own life, for his own dignity – for all those "things" that US Veterans served and fought to secure for others, because they cared — honored to care.  My name is Sara Harvey. I am Gary's wife. Please care. Please, never stop caring, for if we stop caring we may one day find ourselves where we wished others would care. Where Gary is today – where Gary has been for the past four years……
Caught in a bureaucratic system that does not care.
If you care please visit;
www.NASGA-StopGuardianAbuse.blogspot.com
Thank you to all who care.
~Sara
---
Note from Sara Harvey:
For those who can not visit Gary (in St. Joseph's Hospital in Elmira, NY, room 510) or just wish to send a prayer for justice, healing and return to his wife, can you please go to this site and submit a prayer? Pass it around if you wish…I do this everyday…..